Format of Senior Championships
The Commonwealth Senior Fencing Championships consists of Individual and Team events for all the three weapons: foil, sabre and epee.
Competitors
Member countries may send five fencers per weapon per gender.
Each of these fencers may compete in the relevant individual event.
Team events consist of three fencers plus one reserve. The team manager selects the team from the permitted five fencers, and may vary the team as desired between matches.
Eligibility Appeals for Commonwealth Championships
Athletes wishing to change allegiance from the country of birth to another (usually Home Country athletes) may do so ONCE only in their career.
The attached form must be completed and signed by the athlete (and parent if under 18) and endorsed by the country/nation for which the athlete wishes to compete. Hard and soft copies should be sent to the Secretary of the CFF and the athlete will be advised of the Executives' decision as to whether the appeal has been granted.
A register of Appeals Granted is maintained on the CFF website.
130630-Master CFF Eligibility Appeal Document
Awards
Medals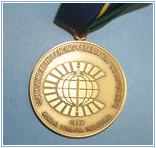 Official Commonwealth Games Federation medals are awarded at the Commonwealth Senior Fencing Championships.
Medals are awarded for first, second and third place in the individual events. Since 1994, two third place medals have been awarded for each event, in line with FIE competition rules.
Medals are awarded for first, second and third place in team events. In line with FIE competition rules, there is no "equal third" - after the semi-finals, the two losing teams fence off for third place. All five members of a placing team receive medals, regardless of whether or not they actually fenced in the team event.
Wilkinson Sword Trophy
The Wilkinson Sword Trophy is awarded to the Nation with the best overall results.
Awards for Significant Performance
The Commonwealth Fencing Federation also gives out up to six Awards for Significant Performance to fencers competing at the Championships.
Rules
Full details of how the event is run (entry details, seeding, schedule, etc) are found in the Rules for the Commonwealth Championships.
CFF Championships Rules (updated 11 July 2010)